I usually watch red carpet events with my favorite gossipy crew (Merton, Tabitha and Cricket) who all feel perfectly comfortable saying the things many of us think, but might not actually utter for fear of being perceived as a "hater."
"Girlfriend is taking the title of the show to heart!" I remember Merton saying when Mariah showed up at the Golden Globes with two golden globes of her own.
"Poor little starlet. Could she not afford more material?" Tabitha said when the audacious, bodacious actress, Oh In Hye, showed us her wares.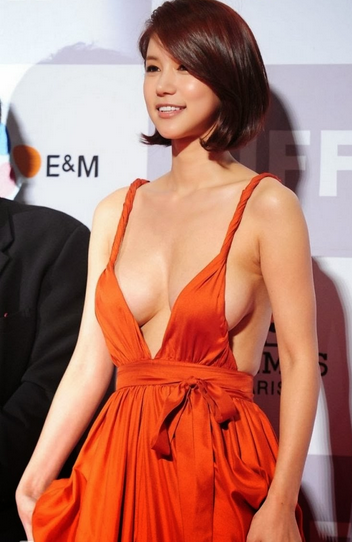 We all got together this year, as usual, for the Golden Globes, but I was sick when the Grammy's were on so I had no other choice than to watch the red carpet alone. It had an interesting benefit. Instead of relying on my friends for commentary, I got the chance to really watch the red carpet. What I watched was a major revelation, and I do not mean the religious kind.
Madonna, coming and going
I'm in no way puritanical. In fact, I'm a big fan of fashion fun and self-expressive statements. But (I tremble even to ask) but have things gone too far? At this point, I'm more familiar with Kate Hudson's, Jennifer Anniston's and Jennifer Lopez's bodies than I am with any of their bodies of work.
I'll admit it: I always cringe when I see too much of the stars I love as they walk the red carpet. Of course, there have always been women in every era who have felt the need to over-expose, but it seems like more and more performers are heading that way, especially at events meant to explicitly celebrate their artistry.
The more I thought it through, the more it bugged me. So I invited my pals over for dinner once my health returned and asked for their input.
"Women have been showing off their tits since time immemorial," Cricket began once I posed the issue after we were all seated. (Cricket has a Phd from the Sorbonne so we always defer to her in matters of history. Of course her PhD is in the color saffron, but we listen anyway).
"Take the 18th century," she said. "Tits were all the rage. Think of Empress Josephine and her empire neckline fad. I'm sure our little Josie had more wardrobe malfunctions than Janet Jackson. Hers just weren't caught on TV, or put on anyones Best and Worst Dressed list."
"Boobs were dead for a while after that," she continued. "And they nearly disappeared in the 1920s. I guess all those flappers were so drunk on hooch, their breasts didn't bug them while they were doing The Charleston."
"The '20s were not a good decade for boobs," Tabitha agreed, looking down at her own surgically enchanted set.
"You should have come of age in the '50s," Merton exclaimed to her. "The bosom was ubiquitous. You would have been a full-blown hit."
Marilyn Monroe, 1950s
"But I would have gone back to being an outcast in the '60s," Tabitha said, "so my fame would have been short lived. In fact, I would have had to have a breast reduction."
"Twiggy. Audrey. Mia Farrow" Merton reminded us. "Stunners."
"And then the '70s happened," Cricket said, lighting up a cigarette at the table. "And really, no one wanted to know about you if you had a big set of knockers. There were still plenty of bombshells in the '60s, but the '70s were all about comfort and plunging necklines and anorexia." She exhaled from a long drag, which was nasty at the table but you can't stop Cricket once she's had a few drinks.
"I heard the '70s are coming back into fashion," Tabitha said, "and I'm petrified, but at least with my implants, I can wear a plunging neckline and my boobs won't go anywhere."
"Maybe that's why so many celebrities are showing their breasts off on the red carpet," I said. "Maybe they're showing off their plastic surgery!"
"Why would they do that?" Tabitha asked.
Merton rolled his eyes and said, "Come now, Tabitha, dear. Surely you, of all people, know why some gals like to show off the fruits of their plastic surgery labors."
Tabitha pursed her lips, then said, "I got my tits done because the twins sucked me dry and I was left with two flap jacks hanging down to my belly button. And yes— I'm vain. I love my clothes. And I don't want to give up certain styles just because my bra will, or won't, work with them."
These are not Tabitha's before and after pictures but magic like this happens every day!! Rest assured, they heal eventually.
"At least the '80s aren't coming back," Cricket said, thankfully shifting the focus of the conversation since I never intended to put Tabitha on the defensive.
"The '80s weren't really about boobs, either," I said, leaping in. "They were about shoulders."
"Once those bra burners became CEO's and Executives," Cricket said, "they didn't want to be messed with. Women were warriors."
"I wore more shoulder pads in the '80s than the New England Patriots," Tabitha confessed.
"By the '90s, women wanted to look touchable again," Cricket said.
"Or maybe they just missed sex." Merton winked.
"I remember the '90s!" Tabitha said. "Everyone looked like glamour girls out of Hollywood's golden age. Even Courtney Love cleaned up her act."
"Which must have taken lye and about a dozen loofahs," Merton said.
"So, if fashion is either cyclical or reactionary," I said, "why are women showing so much of themselves right now?"
"Don't be daft," Merton said. "Because sex sells, doll. That's why."
"But does it?" I asked. "What does it sell?"
"Roles," Cricket said, and I could tell she was already bored with the topic. "Albums…"
"But wasn't one of the highest selling albums of the year Taylor Swift's?" I pointed out. "She's as modest as a vanilla shake."
"Katy Perry is pretty well covered, too," Tabitha said.
"Katy Perry plays the boob game just as well as any of them," Merton disagreed, reminding us of Katy Perry's Grammy outfit from last year, oft referred to in our circle as "boob-tastic."
"There's a fine line," Tabitha said. "If you're bigger than a 36B, you really need to cover up because otherwise you look slutty. Which no one wants to look–"
"–unless it's your brand," I threw in.
"Or because your stylist told you you should try it out," Merton added. "Stylists play a roll in all of this, too."
"You can definitely cross the line, though," Tabitha persisted, "and it's really individual case by individual case. If you're flat chested, you can wear a low neckline and get away with it. If you have big breasts, your choices should be different if you don't want to be labeled. But lots of people obviously either don't care, or want to be thought of as edgy. Or slutty. Or whatever."
Merton jumped out of his chair, saying, "Remember that photo of Sophia Loren and Jayne Mansfield, where Sophia is looking horrified at Jayne's overflowing cleavage? Where's your computer?"
He produced the image which we all looked at it and laughed.
"But who are people talking about right now?" Merton pointed out. "Are they talking about Mary J. Blige and Miranda Lambert?"
"No. They're talking about Kim Kardashian and Ashanti."
"So where does this leave us?" I pondered aloud.
"It leaves us ready for more champagne," Cricket said.
Tabitha and Merton agreed.
"The bottom line," Cricket said, finally putting out her cigarette, "is that red carpets are a fun diversion. Lots of folks make their living off of it, but it isn't life or death. We aren't trying to figure out what Doctor's Without Border's should wear while they're saving peoples lives."
"Thanks Christ," Merton said. Then he raised his champagne glass and offered up a toast. "To the hostess with the mostest! And to all of your breasts— may they always be healthy."
Then we all clinked glasses and never talked about breasts again.
Still, after my friends left and I decompressed in a bubble bath, I wondered… will this fad end soon? Is the self-exposure a sign of low self-esteem? A sign of the difficulty earning a portion of eyeballs? Is it okay that young girls are looking up to their red carpet idols and seeing so much silicone and saline? Will we revert to an earlier era, or do away with clothes altogether?
Tell me, what do you think? I sincerely welcome your thoughts, big, small, or anywhere in the middle.
xo as always,
Isabel
Tags: 60s fashion inspiration, Audrey Hepburn, Boobs on the red carpet, breasts, breasts on the red carpet, Celebrity Red Carpet Outfits, cleavage, cleavage on the red carpet, Courtney Love in Versace, Jayne Mansfield, Julie Andrews, Kim Kardashian breasts, Mariah Carey breasts, Marilyn Monroe, Naked Celebrities, Nicki Minage breasts, plastic surgery, plunging necklines, red carpet fashion, self-exposure on the red carpet, styles of the 60s, styles of the 70s, styles of the 80s, styles of the 90s, Tits on the red carpet, Uma Thurman on the red carpet, vanity fair, Winona Ryder on the red carpet