When hosting my radio show, The Rose Note, I used to use the following tag line to introduce the evenings playlist: "Welcome to the swingin' 60s: when Dicks were hot, and cigarettes didn't cause cancer!"
I do hope my listeners understood the wink in my tone!  My dear and terribly earnest friend, Ruth, chastised me not long ago during one of our occasional get-togethers at Starbucks,  for promoting a negative stereotype. Honestly, I nearly drowned in my grande unsweetened green tea soy latte!
As a middle child, I'm too much of a people-pleaser not to spend a moment making sure you ALL know I"m kidding!!
While I'm not being all that ironic about the name Dick (there really were so many great ones in the 60s!!!! Dick Cavet, Dick Clark, Dick van Dyke, Dick Burton, Dick York…), please understand me loud and clear: I've always been shocked by the tight embrace yesterdays singers had with cigarettes!!!
Look at Americas favorite, fun-loving couple—singer Desi Arnez and the adorable Lucille Ball– living the high life with their Philip Morris cigarettes in hand!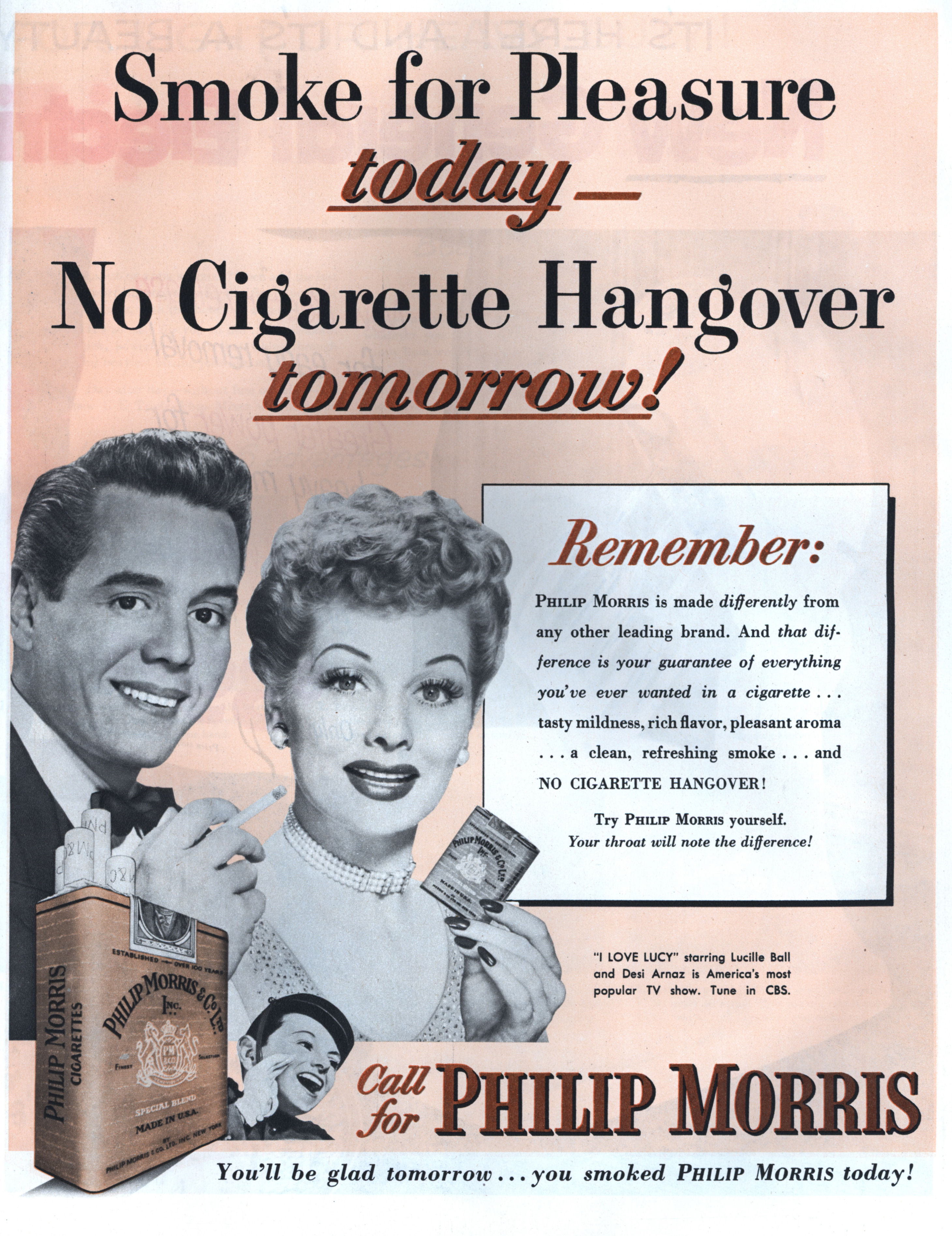 And look! There's Bob Hope, enjoying a Chesterfield in one of the prettiest ads I've ever seen! (Remind me to ask my graphic designer to figure out what font they used).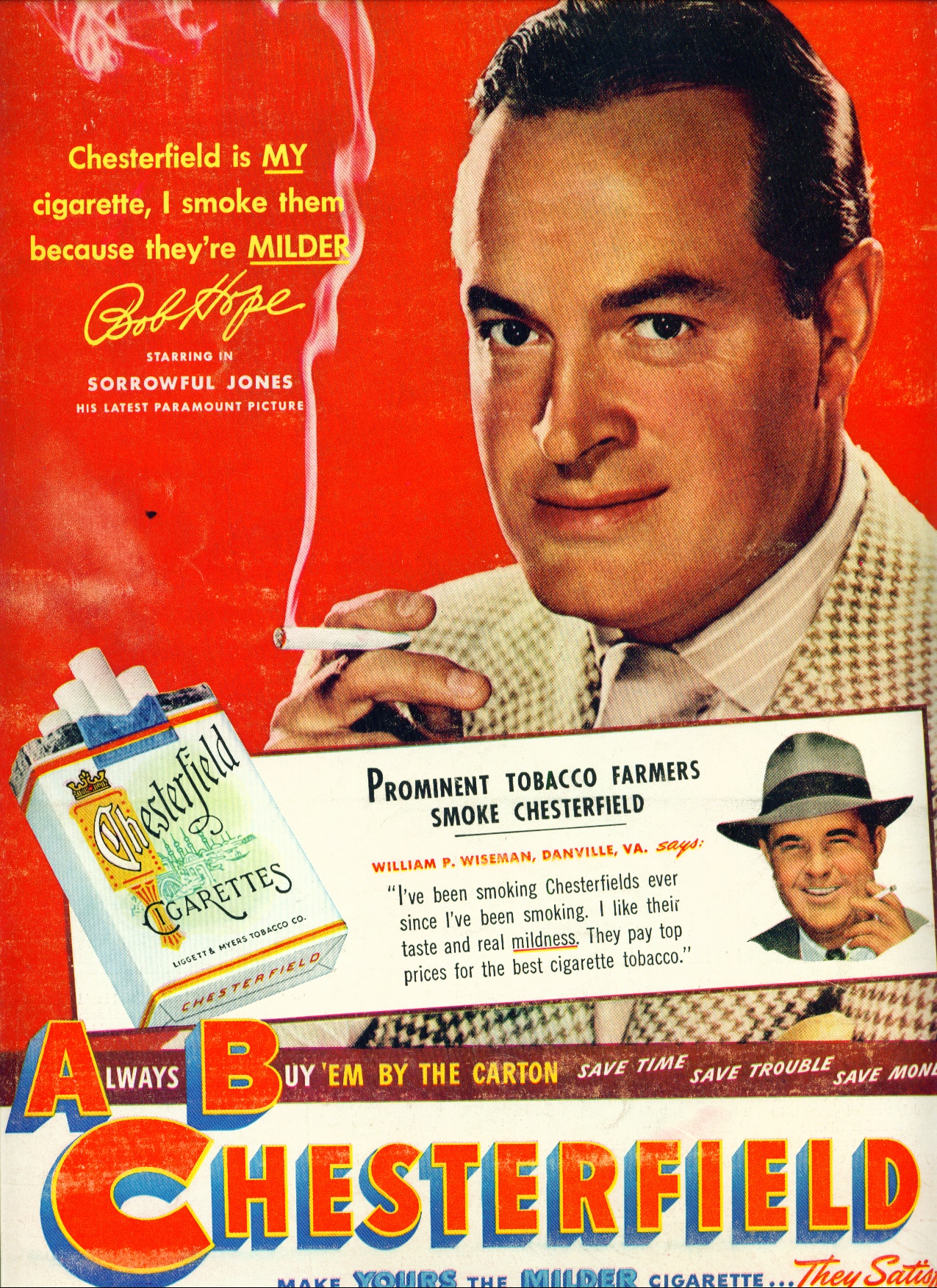 Those folks at Chesterfield sure were clever. They created a whole campaign of connected singer show-biz folks. Check out the ad below, showing Bob's BFF, Bing, and Bing's BFF's Perry Como and Arthur Godfrey!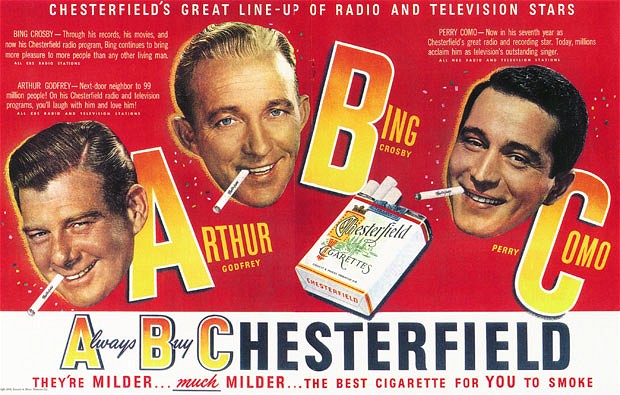 And check out Bing's buddy from the film "High Society" — Mr. Frank Sinatra himself— who also, it turns out, smokes Chesterfields!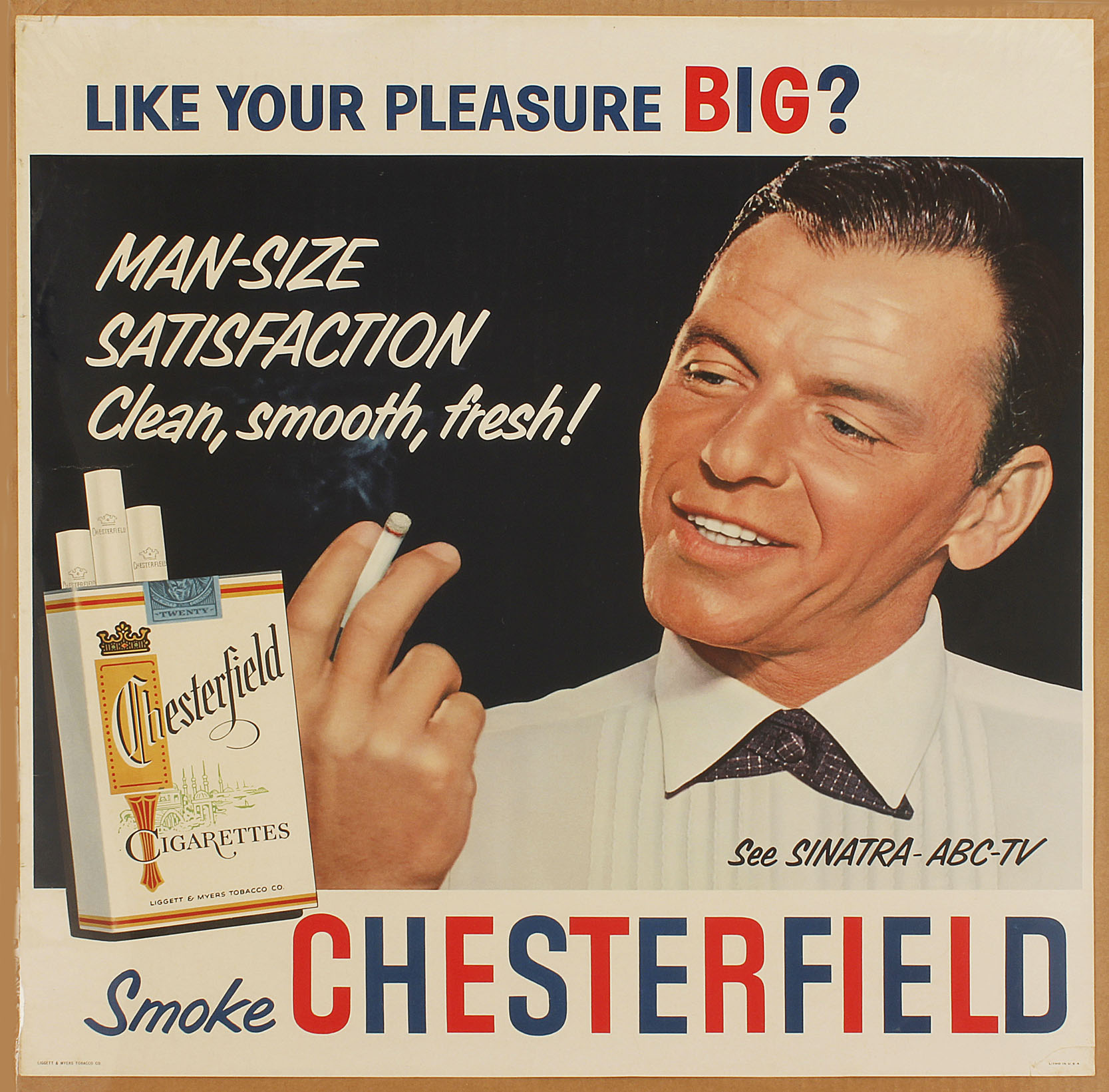 Who was cooler than Frank Sinatra? Well, I suppose you might say his friend and Capitol Record's partner, Nat King Cole, who also, smoked Chesterfield cigarettes. Too bad Nat died of lung cancer when he was only 45.
One of the things that has always made me shake my head are photos of my heroes in recording sessions, cigarettes in hand, even while at the mic!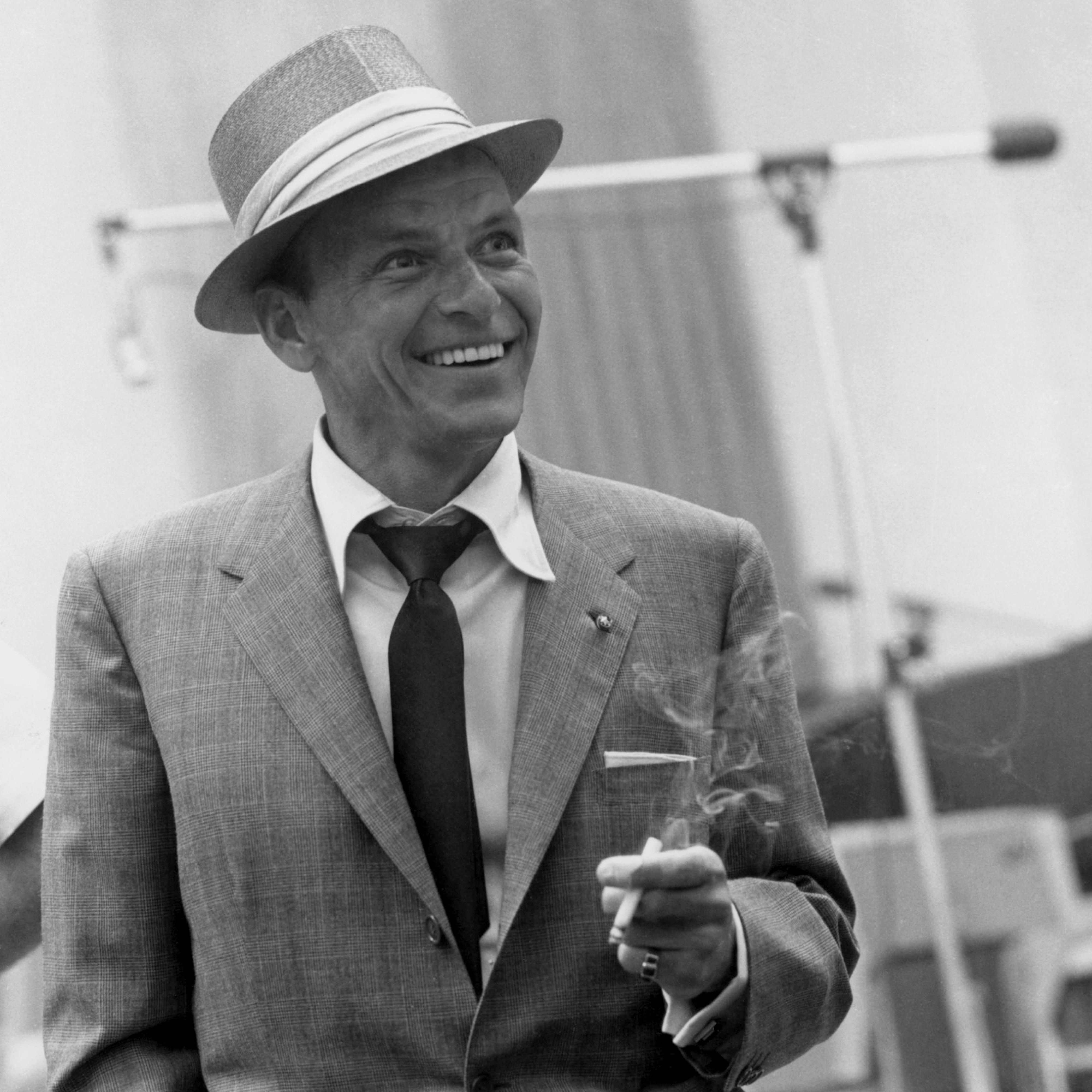 Frank Sinatra and Dean Martin at Capitol Records
In my search design inspiration, I've come across dozens of cigarette ads featuring singers who, in hindsight, probably never would have picked up a smoke if they knew how lethal they'd be.
And they weren't just for those dashing men folk. Broadway star Deborah Kerr, also smoked Chesterfields! (Of course her voice was dubbed by Marni Nixon in the musical King and I.  I don't think Marni smoked but I can't be sure so for gods sake, don't quote me.
And correct me if I'm wrong, but isn't that Ann Miller, dancing in the ad below, cigarette in hand?
Obviously, back in the 60s, everyone drank hard, smoked like fiends, had a great time out listening to music… and were dead by 60.
Friends! Romans! Country cats and kittens! We all know that smoking kills you. And Ruth, honey, bless your sweet, literal heart, but know, darling, know in your deepest knowledge base, that as a singer, as much as I wish I could hang around looking all cool, like Marilyn Monroe in the Lucky Strike ad below, I don't EVER, and I really mean ever, smoke cigarettes because I value both my voice and, more importantly, my life!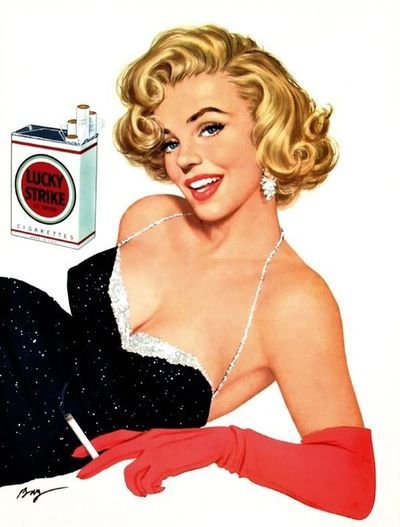 So. I hope I've set the record straight. In the meantime, I'd be lying if I didn't say how much I admire the design of the Hi Fidelty record album cover below which features a singer I've never heard who seems to be letting the world know that smoking and drinking are the very definition of sophistication.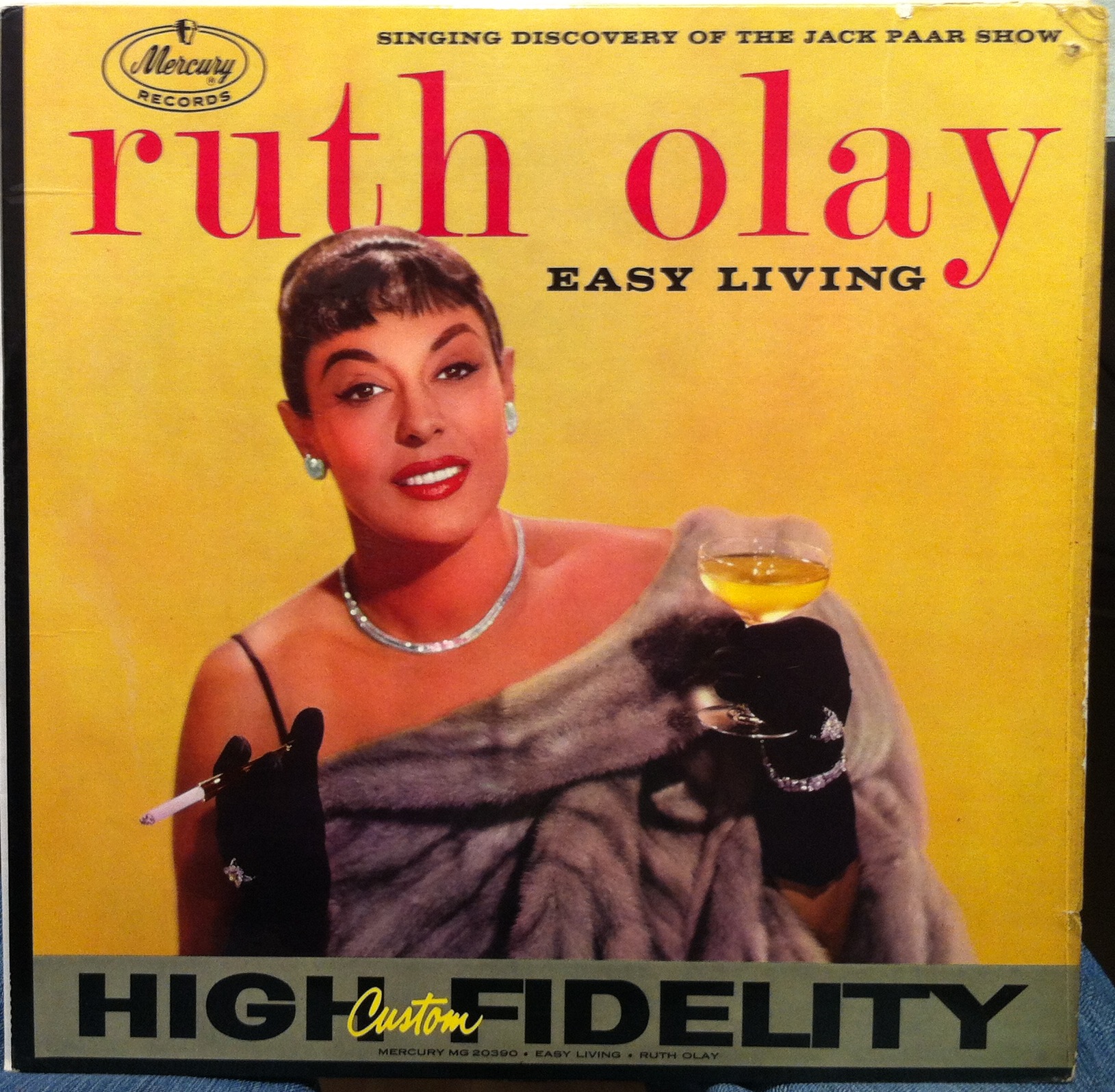 If only she knew!!!!
xo as always,
Isabel