It was Easter! It was Passover! It's officially Spring!
Though I attended not one but 
two
Passover Seders, and dyed 6 dozen batches of eggs for an egg hunt which I conducted on my lawn, the real highlight of the spring holiday season happened for me last Thursday night, when I attended what is called in certain circles, "The Bunny Hop." I'm not in those circles myself. Neither is anyone I know directly. But my friend Tabitha's yoga instructor is a drag queen named Chakra Kahn, and Chakra Kahn is in those circles and invited Tabitha who, in turn, invited me, which is how I came to attend The Bunny Hop this year. As you may have already surmised, there was a bunny theme and strong instructions "to dress." I went to my local Ricky's and picked up a Halloween costume that had big pink bunny ears and a fuzzy white body like pj's, which was paired with fuzzy white gloves and slippers.
this
:
Become
this
?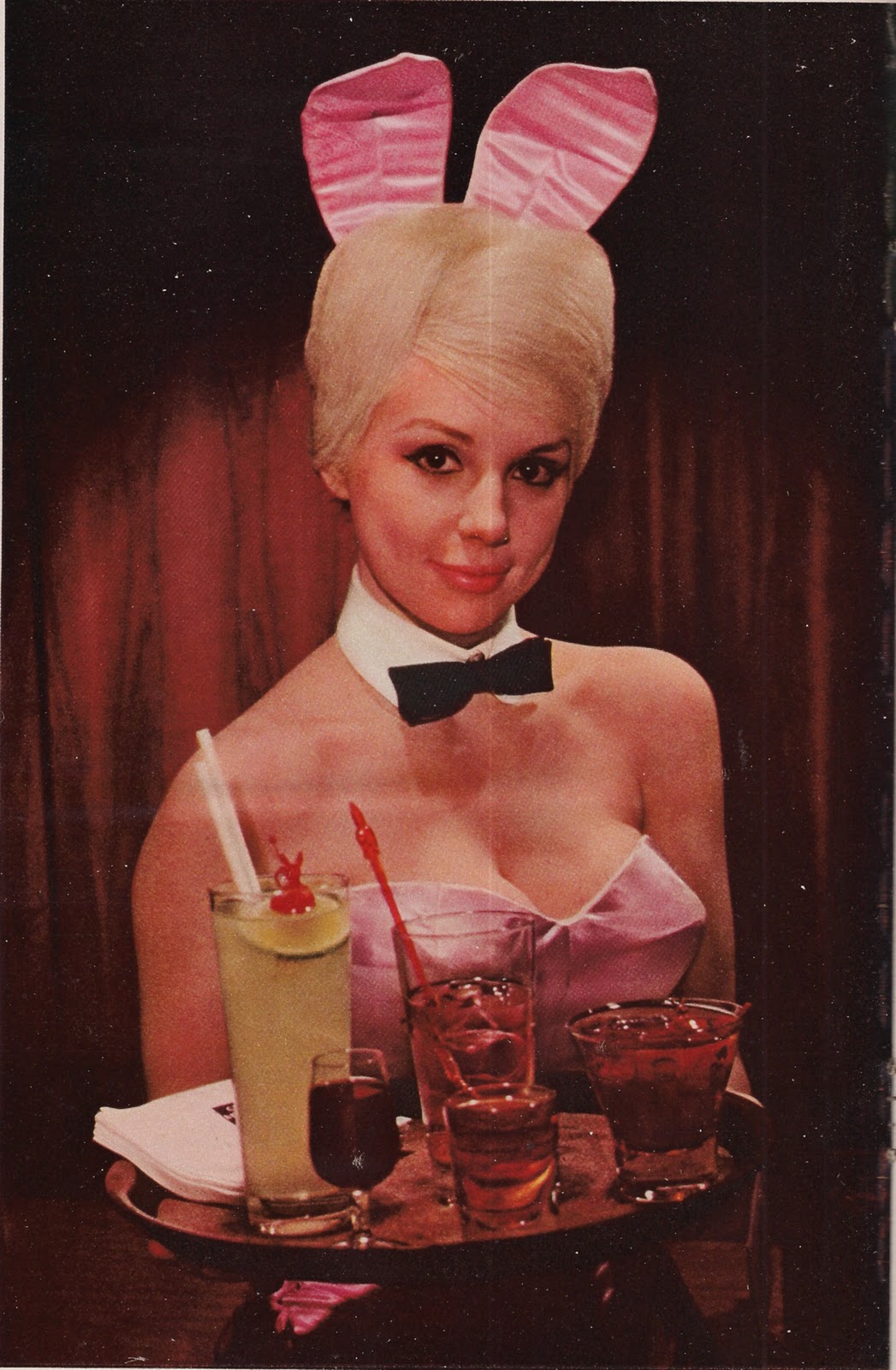 According to Wikipedia, The Playboy Clubs were originally open from 1960 to 1988 (that's a very long run!), the brain-child of one lusty and shrewd business man, Hugh Hefner. The Club re-opened a location at The Palms Hotel in Las Vegas from 2006 to 2012 but is now shut down. However, the Playboy Mansion in LA still exists. The original Playboy Bunnies went through rather rigorous training--- they had to learn to stand with their buts out and their tits up; had to know over 120 different kinds of liquor; and weren't supposed to touch the patrons (though we all know now that the patrons touched the girls in some well-located bunny warrens). There was a hierarchy within the Bunny culture and even the chance to train to be an Airline Hostess bunny!
Victor Lownes
, designed by 
Zelda Wynn Valdes
, and subsequently refined by Hugh Hefner. It took it's inspiration from French showgirls.
Still, why did Hefner choose a bunny and not, say, a pussy cat? Hugh Hefner himself has explained that the inspiration came from a local bar and grill he frequented in his childhood in Urbana, Illinois called "Bunny's Tavern." I only know that because I looked it up on the internet when I got home that night. Chakra Kahn had a very different explanation. She said that the cotten tail accentuated "rear entry;" Tabitha took it one step further and suggested that in the 1960's, with the advent of the pill, it became possible to screw like bunnies without the results real live bunnies had to deal with, namely baby bunnies. I confess, I felt very unsexy all night and wished I'd taken a sexier approach. It's fun to look that trashy! Still, after surviving The Bunny Hop, I've decided that next Easter, I'm going to downplay the bunny and focus on chicks. Easter can have more than one mascot, right?