I had dinner last night with my friend, Phoebe, who's one of those people I need to prepare for properly because she's like a walking encyclopedia of popular culture. Luckily, I had just finished reading To Kill A Mocking Bird, which was written in the 1960s by the mysterious genius Harper Lee, so I was able to start the conversation. But before I knew it, Phoebe was blazing her way through a small dissertation on the real female rule breakers of the era and it turns out Harper Lee wasn't on her list despite the fact that the original cover of that novel is one of my absolute most favorite book jackets ever and P.S. it's an AMAZING READ!!!!!!
Phoebe was on fire, especially after gulping down a martini. "There was Mary Quaint, putting us in mini-skirts," she said, "and Gloria Steinem and Betty Friedan, telling us we could be equal to men. Joan Didion was the It Girl of non-fiction, and then there was Aretha Franklin telling everyone that she, and ostensibly every woman, deserved some R-E-S-P-E-C-T."
"How about Gidget?" I said. "Wasn't she fabulous?" (I happen to be a little bit of a specialist myself on '60s TV theme songs and Gidget is one of my favorites.)
"Gidget is a great example of a character who spoke to teenage girls like an equal," Phoebe said in her academic voice. "Gidget only lasted for one season –1966-1967– but it made a big impact. In a television universe full of housewives and straight-laced daughters who were either cheerleaders or bookworms, Gidget gave the younger generation someone to look up to."
"And she sure did rock a bikini!" I said, trying to stay in the conversation though I did notice Phoebe wince ever so slightly.
"Then there was I Dream of Jeannie," Phoebe said, faster than I was able to lobby for that cute little girl in Magilla Gorilla. "I love how Jeannie had all those magical powers, despite technically being "kept" by Major Nelson. Of course, she kept him on his toes with her insistence on bending the rules and getting into trouble!"
"Remember the episode when she wore Pucci?" I asked.
Phoebe didn't, but she did tell me that Jeannie was a great feminist role model because she spoke her mind freely and proved that blondes weren't dumb even if they "played" the role in front of the men who expected them to act that way.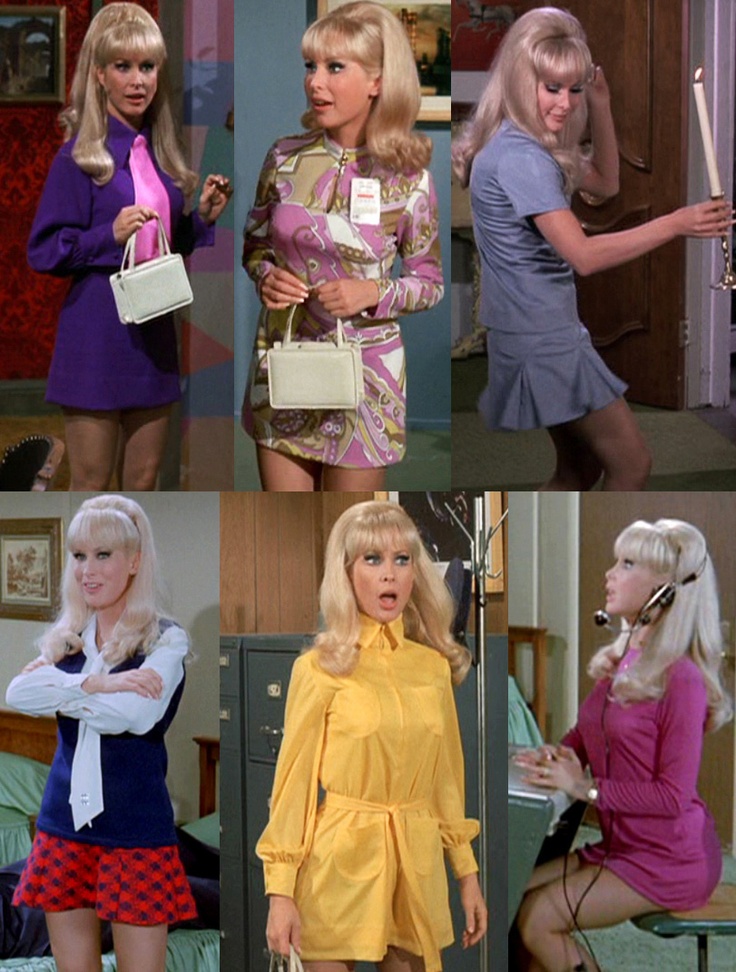 Realizing that I needed to sound smarter, and oiled by the aid of my own Chardonnary, I mentioned Marlo Thomas, who played aspiring actress and Jill-of-all-trades Ann Marie on That Girl. I toured the country when I was 24 with lovely Marlo when we did the first National Tour of Six Degrees of Separation so I felt like I could talk with knowledge.
I bowled a strike with Marlo. Phoebe LOVED herself some Marlo Thomas!
"Ann Marie was the epitome of pluck," Phoebe intoned, "and was able to encourage a whole swath of girls and young women to pursue their dreams," Phoebe said. "And it likely inspired other sitcoms focused on progressive female protagonists, like The Mary Tyler Moore Show."
"And don't even get me started on those lashes and her flip!" I added.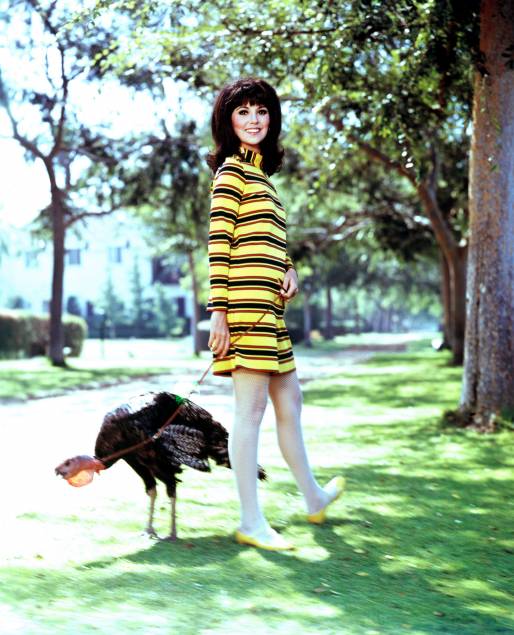 "Did you ever see The Avengers?" Phoebe asked. "Emma Peel was a fabulous character. She was played by Diana Rigg, who was super sexy, a major smartypants, and of course, a fantastic spy! She could beat up anyone in a dark alley, but she was also a scientist, an artist, and an entrepreneur running the family business!"
"God bless her!" I said, aware only of photos of Ms. Rigg and her playful mod style.
"She also helped usher in a new era of television in the 1970s, which brought to life female superheroes like Wonder Woman, and the Bionic Woman," Phoebe continued, because she really can't stop once she gets started.
But I got a few in edge-wise, like Cat Woman in Batman, and Samantha in Bewitched.
Of course, as a performer who also fancies herself to be "strong and sassy," I tip my hat to all these ladies. They've inspired many of my costumes, arrangements, on-stage patter, and have kept me company when on the radio and unable to sleep (thank you "Nick at Night!").
Eventually, I tired of Phoebe, who started spewing all that academic language that makes me feel exhausted, like "so and so represented the reversal of the male gaze," and "according to Baudrillard's Theory of Simulacrum…." but I do thank you her for giving me the idea for today's blog post!
Thanks, Phoebe! Love you!!!!
xoxo,
Isabel
Tags: 1960s female television characters, Barbara Eden as Jeannie, Emma Peel and The Avengers, Gidget, groundbreaking 1960s television characters, Jeannie fashion, Marlo Thomas in That Girl, television entertainers of the 1960s, women of 1960s television