When house music legend Frankie Knuckles agreed to remix my cover of the song "Reflections," it was a brand new adventure for me. While I certainly love to kick up my heels, I'd never done a straight-up dance tune before!
Since my song and my video were going to be played in dance clubs, I thought I'd better bone up on club culture– from how people are dancing, to what people are wearing and everything in between (it's those between parts that are the most interesting but sadly I don't think I can put them into print and maintain my dignity).
There was a time when I had my very own blast dancing the night away at clubs in in New York City , but when I looked around at the world of current club music, I realized things have changed since my glory days at The Palladium, The Tunnel, Area, and Nells!
Of course, I was quickly drawn to one particular aspect of current dance culture. Hmmm…. can you guess?
That's right! FASHION!!!! When I saw the club kids strutting their stuff at the Electric Daisy Carnival, I thought, "Oh, wow! Bette Midler is back in fashion!" Elton John would be right at home! Theater is alive and well in the club scene, my friends.
The Electronic Dance Music (EDM) movement is all about that age old thing I hold near and dear to my sequined heart: expressing yourself!
From fairy wings to unicorn hats, the fashion accessories these folks must have in their closets look like they come from the Halloween store, not the high fashion shops. Yay! That means everyone can afford to go out and dance!!!!
And when it comes to today's club style, it's all about glamour and glow!
Ravers get pretty serious about their accessories. They always go for bold, right down to their false eyelashes and makeup!
Even wave-making artist Nicki Minaj has been drawing inspiration from dance club style. She performed at the EDM-themed Victoria's Secret fashion show recently, dressed to the colorful nines.
She also unveiled her own bold affordable clothing line at Kmart last year and a collection of nail polish for OPI, and both were deemed just a little "out there" by some.
Of course, I've been known to engage in a little on-stage pageantry myself!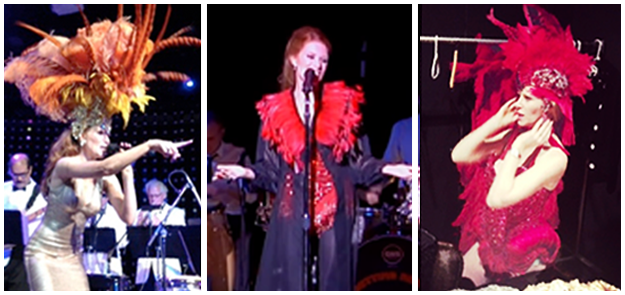 While I'm not sure I'll be donning fairy wings anytime soon (though, you never know — stay tuned for my show at The Stephen Talkhouse next week), I certainly do admire these guys and gals who get out there and celebrate life.
The  EDM movement is HUGE. I was surprised to discover that this side of our little music industry was recently found to be worth over 6 billion big ones!
So get out your day-glo and your face paint, your wigs and your fairy wings, and hit the scene!!!!!
xoxo,
Isabel
Tags: dance club styles, EDM fashion accessories, EDM festival fashion, EDM style, electronic dance music fashion, electronic dance music style, Isabel Rose Reflections remix, Jean Paul Gaultier, Madonna cone bra