Frank Sinatra
! Dreamy Ol' Blue Eyes ranks above even the King of Pop himself, Michael Jackson. It should be no surprise then that
Frank Sinatra's first New Jersey driver's license
just commanded an impressive sum at an auction a few weeks ago. It was sold to a lucky but undisclosed bidder for 15,575 big ones. Young Frank paid just three bucks for the license a whopping 80 years ago when he was a 19-year-old kid named Francis living in Hoboken.
the American Songbook
), I want to remember him today by sharing some of my favorite performances! Check out this perky performance by Broadway belter Ethel Merman and Frank singing Cole Porter's "You're the Top" on the Colgate Comedy Hour in 1954. It's no secret I dig a good Porter tune! Eleven years later, on June 20, 1965, Mr. Sinatra and his Rat Pack pals Sammy Davis, Jr. and Dean Martin sang jaunty little number "The Birth of the Blues" alongside The Count Basie Band at the Old Kiel Opera House in St. Louis, Missouri. Johnny Carson was filling in for an ailing Joey Bishop as emcee and ended up making that trio a quartet. Very special guest performers that night included Sinatra's wife Barbara and daughter Tina, Martin's wife Jeanne, Sammy's mother Elvira, and Angie Dickinson. Who wouldn't kill to be on that bill? In 1966, dad and daughter duo
Frank and Nancy Sinatra
did an adorable "Downtown"/"These Boots Are Made for Walkin'" mashup on one of his widely watched TV specials. And boy can you feel the love they had for each other! Though they'd been singing together for years, this was the official beginning of their public collaboration. And how about Frank Sinatra singing this super laid-back interpretation of "The Best is Yet to Come," one of MY favorite songs? There he is, swingin' away again with Count Basie and his band in 1981. He first released the song on 1964's
It Might As Well Be Swing
, backed up again by Count and his orchestra, directed by the legendary Quincy Jones. "The Best is Yet to Come" was the final song Frank sang publicly in 1995. While it was written for and first introduced by Tony Bennett, Sinatra made it famous. It's even etched on his tombstone!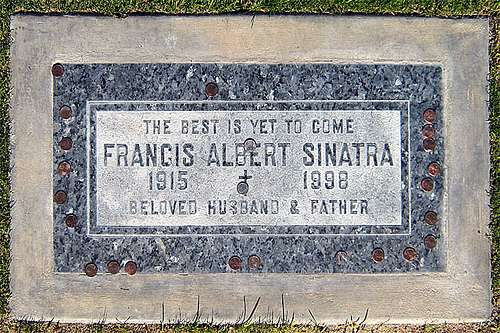 I love this little ditty so much, I covered it on my first album,
Swingin' from the Hip
! So, my fellow Frank-o-philes -- How about leaving some of your favorite videos and memories in the comments section? xoxo,
Isabel
Tags: Frank and Nancy Sinatra duets, Frank Sinatra auction, Frank Sinatra drivers license, Isabel Rose The Best is Yet to Come, Sinatra singing career, The Best is Yet to Come, The Rat Pack The Birth of the Blues, You're the Top Frank Sinatra