For most stars, Oscar night is their night to show off: show off their great taste; show off their great bodies; show off their great relationships with great designers and great stylists. In fact, many people remember what a star wore long after they've forgotten which film the star appeared in!
Michelle Williams, 2006, in Vera Wang       Audrey Hepburn, 1954, in Givenchy          Julianne Moore, 2003, in Tom Ford 
So, what is it about singers that makes them take such a different approach to their red carpet choices?
Bjork in Marjan Pejoski, 2001              Cher in Bob Mackie, 1986
From Bjork's much-maligned swan dress (2001) to Cher's jet-beaded Bob Mackie spider web special (1986), our favorite divas (some of them men) seem to see the Oscars red carpet as an opportunity to outshine everyone else by making a fun statement.
These performers want to get people talking. And boy, do they!
Jay Carr of the Boston Globe wrote, "Bjork's wraparound swan frock…made her look like a refugee from the more dog-eared precincts of provincial ballet." And of Celine Dion's backwards, white tuxedo and fedora (1999), fashion blogger Jeremy Romain of Ton Petit Look wrote, "Not only does John Galliano hate Jews, he also hates French Canadians!"
Why do they want that kind of press? Don't these people know any better? Isn't anyone advising them? As my Great Aunt Marlene used to lament (while decked out in a polyester house dress and perma-pink lipstick), "That Cher has such a lovely figure. Why does she want to look like such a tramp? I bet her mother cries herself to sleep!"
Marketing expert Mae West once wisely said, "Better to be looked over, than overlooked." In other words, any attention is better than no attention.
Yet the choices I'm celebrating here point to something bigger, and that is the elemental freedom that singers have to break rules, have fun and laugh along with us  — even if the ship is going down (or the swan is dying, as the case may be).
I wouldn't think of hitting the stage without wearing something that makes me feel joyful. Why smooth my hair straight and wear a gown I might wear to a benefit gala when, instead, I can throw on a Vegas-style headdress or rock a red boa? And I can assure you: no one else will be wearing the same thing!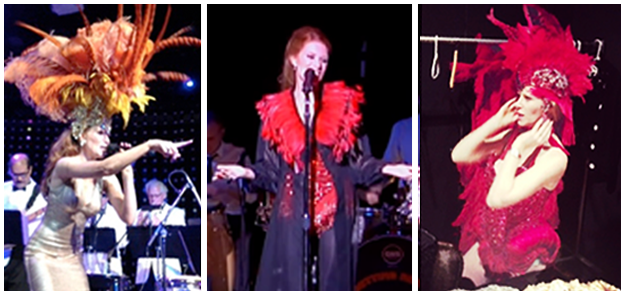 So although I, like you, may wonder about their choices, I nevertheless applaud the singers who have dared to be different, and thank them for giving us all something to gossip about while on line at Starbucks.
Who will it be this year?  Who will break us up, make us squeal, gag, call our best friend, tweet, text or tumble? Tell me! Come on. Any guesses?
I'll be tweeting my thoughts about the Oscars live this Sunday night EST. You can follow me on Twitter @IsabelRose.
Tags: Academy Awards Night, Academy Awards outfits, Barbra Streisand Oscar Outfit, bjork swan dress, Cher in Bob Mackie, iconic oscar outfits, Isaac Hayes, Isabel Rose fashion statements, Oscar fashion, Oscar gowns, Oscars Music, Oscars red carpet