What's more important on a photo shoot than the right clothes?
My trusty stylist, Lisa von Weise Shaw, and I began our hunt at Albright Fashion Library, the go-to rental house for most NY photo shoots. Our goal was to round up some '60s flavored outfits with great necklines. After a thorough search, we narrowed down to a handful and hit the dressing room.
We started with this Zac Posen black halter number, which I adored. It felt very "Gilda" to my eyes. My only worry was that it was a little too '40s.
Next I tried this ultra-60s event by a new designer, Allexandre Vauthier. So Bond! So fun!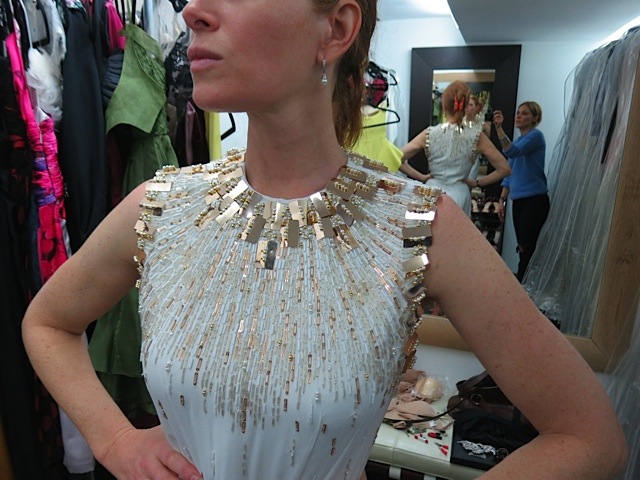 Lisa urged me towards something more elegant. My first grab was this fuscia Lanvin.
I adored it, but Lisa feared it might be hard to move in and urged me towards this Dolce.
Next came this feathered Marchesa. I mean… talk about glamour!!!!!
I thought we better try long sleeves so lisa handed me this super-retro Lanvin.
I didn't want to wear try this Roland Mouret but I actually felt very sunny in it.
I hated the fit on this Zac Posen but Lisa loved it.
Another disagreement ensued over this floral Balenciaga. I didn't love it, but Lisa said YES!
To throw Lisa off the floral path, I reached for this Zac Posen black cocktail dress.
Sticking with the whole chiffon theme, I had fun with this coral Pamela Roland.
To end the fun, I wriggled into this over-the-top Zac Posen.
Albright closes hard at 1pm for lunch so we were forced to end our fun. We could only choose a few for the actual shoot. Which ones are YOUR favorites??
Tags: Balenciaga, Dolce and Gabbana, Lanvin, Marchesa, Pamela Roland, photo shoot outfits, retro-gowns, Roberto Cavalli, Roland Mouret, vintage glamour, Zac Posen