Okay. I'll admit it: performing live on morning TV this past friday was a thrill, even though it did entail getting up at 4 am.
It's one thing to get up at 4 am because you have the spins, or because you're being assailed by the early morning "what ifs" and the "whys" and the "what nows." It's quite another thing if you're getting up at 4am to prepare to promote your album on Fox 5!
Of course I wasn't alone at that ungodly hour (that's what Merton called it, not me). Naturally I was joined by my trusty stylist, Lisa von Weisse Shaw.  Out came the dress choices: the purple vintage Cacharel dress I wore in my Aquarius video (and which I wore for my album release concert), or a black and white sequined Matthew Williamson sunburst mini-dress.
We decided the black and white would work better for morning TV because it would wake people up. Just as we were lining up the right boots and accessories for the chosen dress (I went for the Gucci boots!), the doorbell rang and in walked Tracy, my make up artist. Honestly, this girl could make a leper look like a fashion model so I was mighty glad to see her!
The clock was ticking away and somehow 4:30 became 6:30 without anyone realizing. The car was coming to pick us up at 7. It was time for my hairstylist, Heather, (who arrived somewhere during that two hour period like a Ninja), to work her magic.
Dressed and ready, off we all went to Fox 5 studios which look, well, exactly like a real TV studio!!!!
um hmm
My band had been there since (deep breath) 4 am, setting up their instruments and sound checking. I joined them on set for my own sound check around 8am and then retreated to the green room until it was my turn to rock it.
The green room is always a fun place to be because you meet the other TV guests. Mia Wasikowska was there being interviewed for her new film, Tracks, and Orlando Jones was on set to talk about his TV series Sleepy Hollow.
I was yacking away with Orlando and doing snap chat with him when my publicist suddenly rushed in and said, "You're wanted on set!"
I got into place by the microphone and without any warning, Rosanna Scotto and Greg Kelly, the hosts of Fox 5's Good Day New York were suddenly beside me asking me questions.
dishing with Rosanna and Greg
Good thing I had been awake since dawn, and my two cups of coffee had kicked in: I was able to answer all their questions without vomiting on myself or stuttering and was even a little bit sassy if I do say so myself (actually, I didn't say, but Merton was watching from home and he texted me that exact word: "Sassy!").
I hit all my important points so my publicists were happy:
I'm like Diana Ross backed by Cold Play— retro and glamorous with a modern edge;
I'll be performing at 54 Below in NYC on Wednesday, October 1st at 9:30pm, so people should hire their sitters or book their plane tickets now.
I have a video on YouTube for the title track, "Trouble In Paradise," that I made with 3 famous drag queens: Hedda Lettuce, Ivy Winters, and Paige Turner.
Then it was time to sing!!!! Hurray!!!! I know how to do that!!!!! To see how it went, check it out yourselves by clicking the photo below!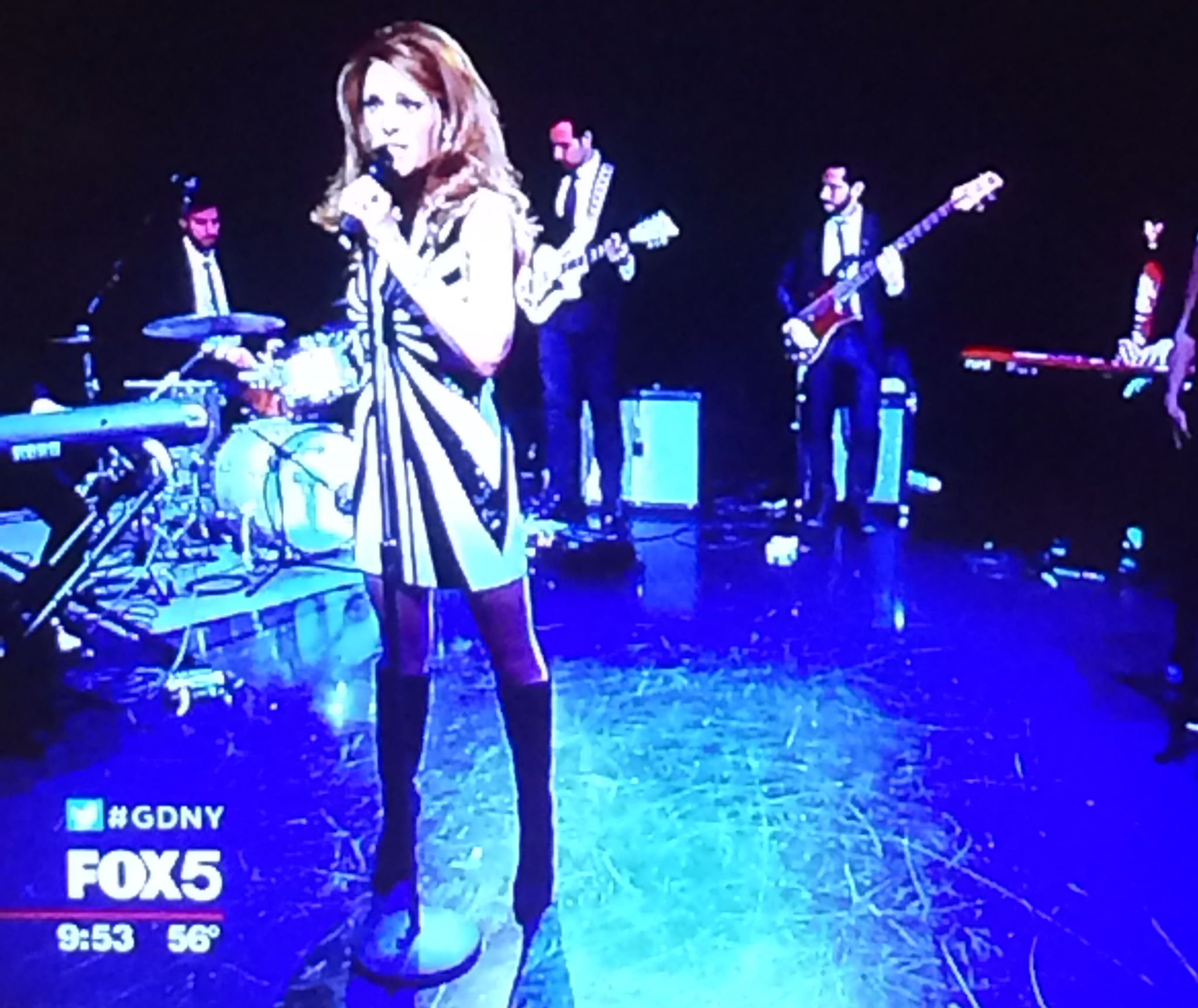 Now spread the love, everyone! Grab a copy of my album, watch my video for "Trouble In Paradise," and be part of the excitement! And if you need any advice on how to prep for TV, you know who to turn to!
xoxoxo,
Isabel
Tags: Gucci boots, Isabel Rose Good Day New York, Isabel Rose on Fox 5, Lisa von Weise Shaw, Matthew Williamson fashion, Mia Wasikowska, Orlando Jones, Rosanna Scotto and Greg Kelly, Trouble in Paradise