I arrived at Hudson Studios on 26th & 11th at 9am to discover my stylist, Lisa von Weise Shaw, in a tizzy. The clothes from Albright, our rental house, weren't there even though she had confirmation they had arrived the day before. I decided to stay out of her way, and went over to the hair and make up table to meet the creative team.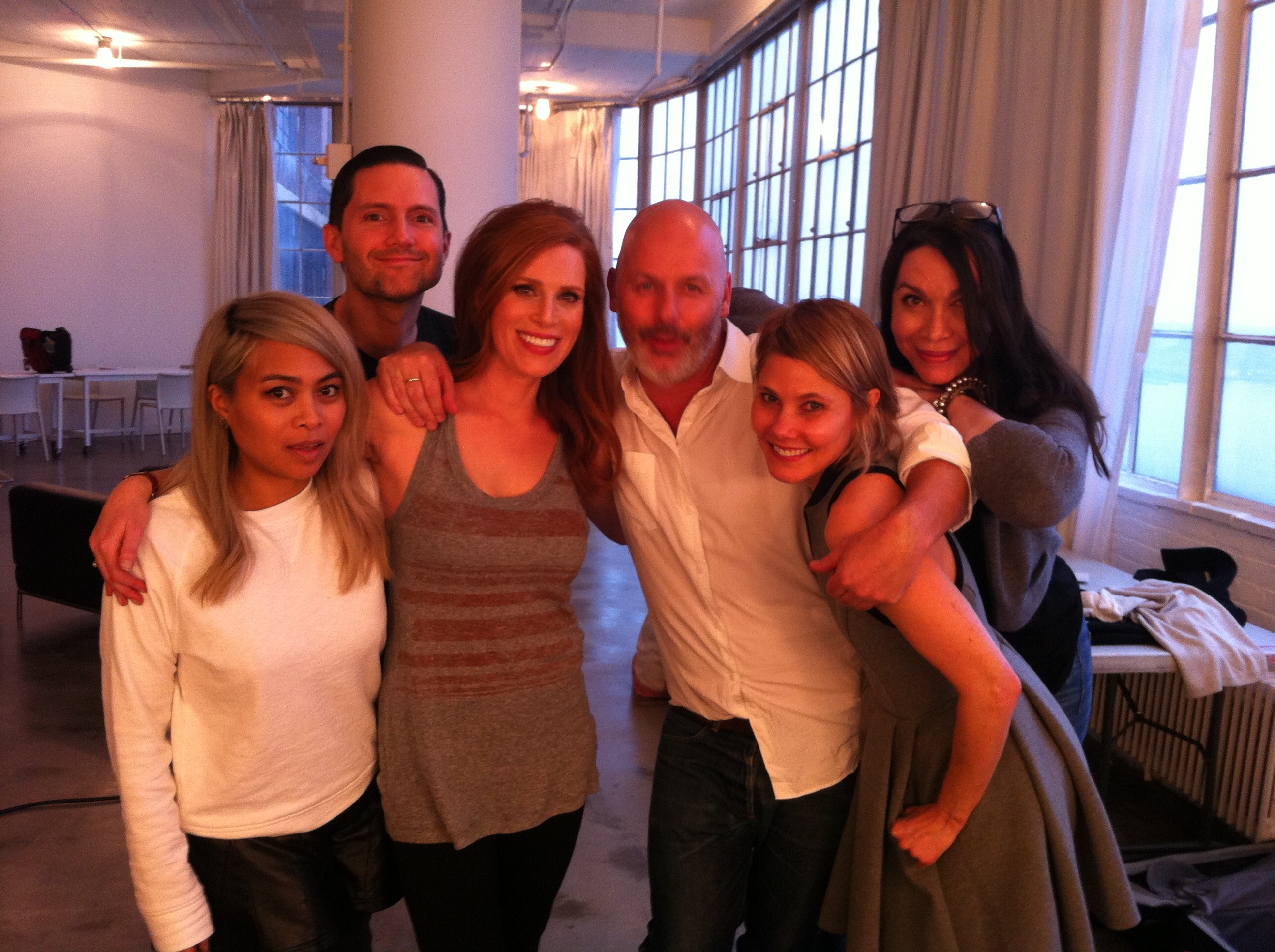 Leon Gorman and Tracy Alfajora, were booked to do my hair and make up respectively.  The first thing we all did together was study the inspirational photos I had brought to set with me. They ranged from simple portraits to full-on Bond girl.
We decided to begin with a "natural look" and build drama from there. Three hours later, we were ready. I was wearing black leggings and a simple smock top. To tell you the truth, I felt like I should go throw a pot, not pose for an album cover. Still, it was a place to start.
The photographer, Derek Kettela, suggested I stand by the large, industrial windows where the natural light would be best. The Talking Heads "Burning Down the House" filled the space with 80s new wave energy (Derek's choice, not mine). "Let's see a smile," Derek said. "Nice and easy. No need to push."
Click! went the camera. Click! Click!
I tried. I did. But I couldn't. I couldn't smile. I couldn't even pout. I was miserable.
Here's the truth: I don't really "do" natural. It just isn't my thing.
"Let's see what we've got," Derek said, tactfully taking a break.
I looked at the test shots in the monitor— saw the radiator in the background and the blurred city scape in the distance — and said, "Let's switch gears!"
To Leon's complete chagrin, I shouted, "Bring out the hair extensions!!" To Tracy, I announced: "More lashes! More liner! A more defined brow!" To Lisa, I queried: "Have the real clothes arrived?" Thankfully, they had.
Another hour later and we were truly ready for action.
Here are a few snapshots from the shoot (all unretouched) to give you an idea of what we ended up with once I felt more comfortable.
Look 1: Inspiration, Raquel Welch
All important Background Music:"You Only Live Twice," Nancy Sinatra.
Look 2- Inspiration: Audrey Hepburn, Funny Face
Background music: "Celebrate," by MIKA featuring Pharrell Williams
Look 3 – Ursula Andress
Background music: "Diamonds Are Forever," Shirley Bassey
Look 4 – Pin-Up Girl
Background music: "Happy," Pharrel Williams
So anyway… you get the idea! I was in and out of a dozen outfits. We changed my hair 5 times and listened to the entire James Bond theme songs soundtrack until we could hear it no more. We also played Pharrel's "Happy" again  and again because it made me really, well, happy! I also played Cee Lo Green's "Forget You" once or twice. Love that grove. I really do.
And now it's time to choose ONE photo from the many for the album cover. Which will it be? Stay tuned…
xo,
Isabel
Tags: 60s fashion inspiration, behind the scenes of a photo shoot, best photo studios in NYC, Bond, how to pose on a photo shoot, photo shoot, pin up girls